GOLFZILLA is available to hire. Add a fun talking point to your Open Day, Junior sessions, corporate event or party.
Prices are as follows:
Full Day (6 hours on site) – £260.00 plus VAT Full Day
Please note that 30% golf balls are used so as not to hurt the dinosaur!
GOLFZILLA will be set up by trained staff and accompanied at all times.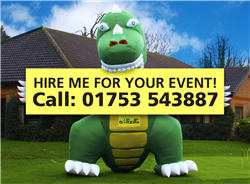 Hire times and rates can also be tailored to your individual requirements please ask us for a quote.
Our PGA Professional Paul Cook can accompany Golfzilla to offer instruction if required. Please add £250.00 to the cost of a full day and £125.00 to the cost of a half day for this option.
For more details and availability please call Mark Grieve on 01753 543887 or e-mail secretary@datchetgolfclub.co.uk
Terms and conditions apply please ask for detail